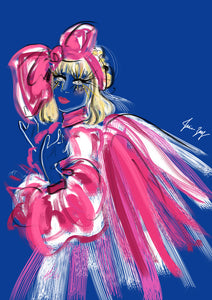 A Lively Moment with Lady Gaga at the Met 2019, but in blue - Digital Fashion Artwork   
Inspiration for Artwork from Talia
Lady Gaga is wearing an amazing unforgettable pink dress with huge volume by Brandon Maxwell at the Met, but here I added a contrasting background of half-dark navy blue and half royal blue since I wanted to give a contrasting edge to the look that she wore during the Met 2019. I also wanted to give new meaning to the painting and create different interest by using different colors. As you see, Lady Gaga's face is blue and the background of the art is blue to give you a different perspective.


I really like to do this with my art and I enjoy recreating my paintings by changing the background to let you see how the whole meaning of the artwork can change a moment  that I have captured. You can use this as an example to change the look of your walls, brighten your space and add meaning to your surroundings by putting up a vibrant, colorful piece of art.


Media: Digital Art.
All prints are hand-signed and dated by Talia Zoref for authenticity.
Custom Framed - Choose black, white, gold or metallic silver in sizes 29.7 X 21 cm (11.7 X 8.3 inches) or 42 X 29.7 cm (16.5 X 11.7 inches).
Other sizes and frame colors available upon request.
Made to order.
Unframed Art - Choose size 29.7 X 21 cm (11.7 X 8.3 inches), 42 X 29.7 cm (16.5 X 11.7 inches), 48 X 33 cm (18.9 X 12.9 inches), 80 X 60 cm (31.5 X 23.6 inches) or 100 X 80 cm (39.4 X 31.5 inches).
Printed on professional quality, heavyweight 300 gsm paper.
The paper is slightly textured to keep the touch of the original art.
Disclaimer: Framed product images are used are for illustrative purposes only. The dimensions given for artworks are illustrative of the size of the painting and/or print without the frame.