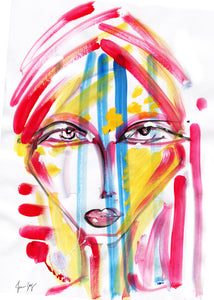 Watercolor Painting: A Captivating Face of a Woman
Inspiration for Artwork from Talia
I wanted to catch the essence and uniqueness of a woman's face using brush strokes to create a dramatic and colorful look while also keeping a sense of balance and interest. I did this by applying the colors in interesting ways to captivate you and keep you looking. Adds interest, color and balance to your walls.
Media: Watercolor and Marker.
All prints are hand-signed and dated by Talia Zoref for authenticity.
Custom Framed - Choose black, white, gold or metallic silver in sizes 29.7 X 21 cm (11.7 X 8.3 inches) or 42 X 29.7 cm (16.5 X 11.7 inches).
Other sizes and frame colors are available upon request.
Made to order.
Unframed Art - Choose size 29.7 X 21 cm (11.7 X 8.3 inches), 42 X 29.7 cm (16.5 X 11.7 inches), 48 X 33 cm (18.9 X 12.9 inches), 80 X 60 cm (31.5 X 23.6 inches) or 100 X 80 cm (39.4 X 31.5 inches).
Printed on professional quality, heavyweight 300 gsm paper.
The paper is slightly textured to keep the touch of original art.
Disclaimer: Framed product images are used are for illustrative purposes only. The dimensions given for artworks are illustrative of the size of the painting and/or print without the frame.