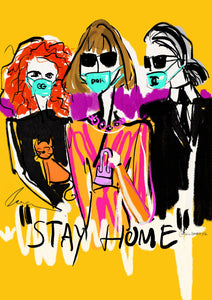 Fashion Art: A Response to COVID-19
Inspiration for Artwork from Talia
I created three fashion icons wearing masks from my inspirations in the fashion industry as a response to COVID-19. You can see Anna Wintour, Karl Lagerfeld and Grace Coddington each with his or her iconic style. Karl Lagerfeld, who was the Creative Director of Chanel, is with his Chanel mask, iconic ponytail and suit. Anna Wintour, Vogue's Editor and Chief, is with a Dior mask and sunglasses. She is carrying the tiny Jacquemus bag, which is super trendy on social media now. Then there is the redheaded Grace Coddington, Vogue's Creative Director, wearing a Gucci mask and a sweater with a cat, which is her signature style. She loves drawing cats. The illustration states, "Stay Home" in Off White style, which is a tribute to Off White and Virgil Abloh, the Designer of Off White and Louis Vuitton.


I wanted to share my response to COVID-19 with you by illustrating fashion icons. Here, I used vibrant colors to create something very powerful.
Media: Digital Art
All prints are hand-signed and dated by Talia Zoref for authenticity.
Custom Framed - Choose black, white, gold or metallic silver in sizes 29.7 X 21 cm (11.7 X 8.3 inches) or 42 X 29.7 cm (16.5 X 11.7 inches).
Other sizes and frame colors available upon request.
Made to order.
Unframed Art - Choose size 29.7 X 21 cm (11.7 X 8.3 inches), 42 X 29.7 cm (16.5 X 11.7 inches), 48 X 33 cm (18.9 X 12.9 inches), 80 X 60 cm (31.5 X 23.6 inches) or 100 X 80 cm (39.4 X 31.5 inches).
Printed on professional quality, heavyweight 300 gsm paper.
The paper is slightly textured to keep the touch of the original art.
Disclaimer: Framed product images are used are for illustrative purposes only. The dimensions given for artworks are illustrative of the size of the painting and/or print without the frame.