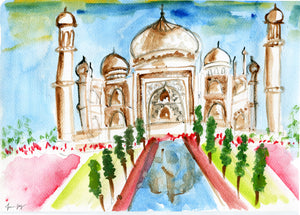 Travel Art of the Spiritual, Cosmic and Magical Taj Mahal
Inspiration for Artwork from Talia
I have never been to the Taj Mahal, but it has always seemed so cosmic, spiritual and magical to me. I really wanted to bring this to the drawing with this almost perfect location, as the building is very symmetrical. It is very inspiring and gives a different feeling that I don't think that I have ever seen in any other structures. Being inspired, I really wanted to create my version of it since it has such amazing parts to it.  The building really intrigued me and I wanted to share my vision with you.
Media: Mixed Media - Watercolor, Marker, and Digital
All prints are hand-signed and dated by Talia Zoref for authenticity.
Custom Framed - Choose black, white, gold or metallic silver in sizes 29.7 X 21 cm (11.7 X 8.3 inches) or 42 X 29.7 cm (16.5 X 11.7 inches).
Other sizes and frame colors available upon request.
Made to order.
Unframed Art - Choose size 29.7 X 21 cm (11.7 X 8.3 inches), 42 X 29.7 cm (16.5 X 11.7 inches), 48 X 33 cm (18.9 X 12.9 inches), 80 X 60 cm (31.5 X 23.6 inches) or 100 X 80 cm (39.4 X 31.5 inches).
Printed on professional quality, heavyweight 300 gsm paper,.
The paper is slightly textured to keep the touch of original art.
Disclaimer: Framed product images are used are for illustrative purposes only. The dimensions given for artworks are illustrative of the size of the painting and/or print without the frame.